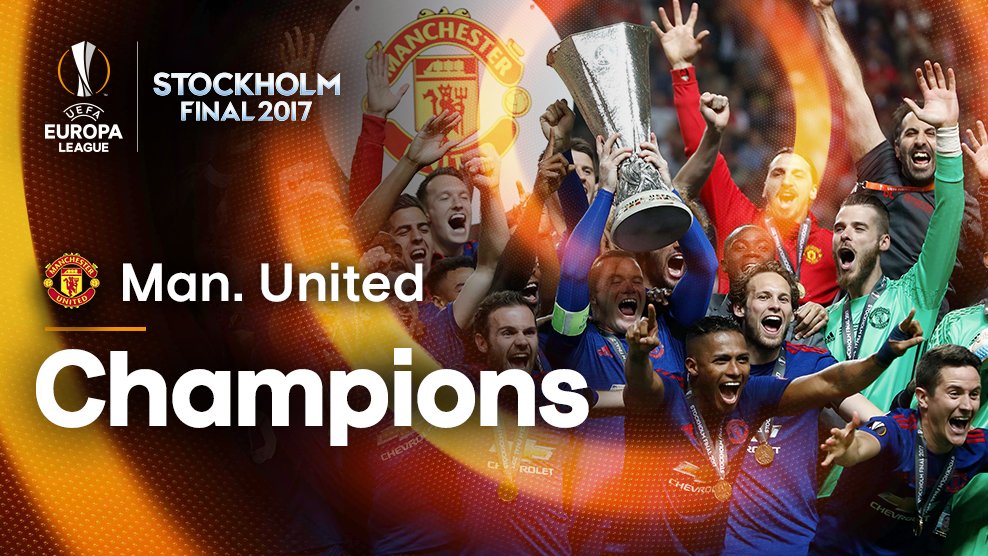 United negotiated a long route to win the Europa League, spanning 15 games from Sep to Dec and then continuing from Feb to May. Here is a recap of every round as we still savour the final victory over AFC Ajax.

Group Stage - Matchday 01 | 15 Sep - Feyenoord 1-0 United
United started their Europa League 2016|17 campaign in disappointing fashion although through a controversial late strike by Tonny Vilhena as replays proved that the creator's Nicolai Jorgensen was offside. With only a few clear chances before the goal on a balmy night in Rotterdam where United fans had great European memories for the Cup Winners' Cup triumph in 1991, this latest visit was not to end in the Reds' favour.

Group Stage - Matchday 02 | 29 Sep - United 1-0 Zorya Luhansk
Zlatan Ibrahimovic's 2nd-half goal was enough to give United a crucial 1st Europa League win, though the hosts were being frustrated for long periods before finding an important breakthrough 20 mins from time. The visitors were visibly disappointed and nearly conceded again with Marouane Fellaini volleying over while the away side got a late chance through Aleksandr Karavayev but Sergio Romero saved it comfortably.

Group Stage - Matchday 03 | 20 Oct - United 4-1 Fenerbahce
United boosted the bid for a place in the knockout stages with a 4-1 win though it took a while to get things going before penalties by both Paul Pogba and Anthony Martial plus a stunning strike from Pogba gave the hosts a firm 1st-half cushion. Jesse Lingard added further gloss shortly after half-time and though Robin van Persie scored on this anticipated Old Trafford return, the Reds earned a 2nd win in Group A to sit 2nd at halfway point, a fortnight before the return meeting with Fenerbahce.

Group Stage - Matchday 04 | 03 Nov - Fenerbahce 2-1 United
The hosts ensured that it was 7 European away matches without a win for United as they leapfrogged the Reds and Feyenoord to top Group A, through an incredible 2nd-min overhead kick by Moussa Sow plus the sweetly struck free-kick by Jeremain Lens after the interval. Back into the team up front, Wayne Rooney fired a similarly stunning goal as the game drew to a close but that was too late to stop United slipped to 3rd.

Group Stage - Matchday 05 | 24 Nov - United 4-0 Feyenoord
United remained in control of their own destiny with 1 group match to play as Rooney made history in this dominant win to become the Reds' all-time leading scorer in Europe on 39 goals as his composed finished saw his side took a 1-0 lead. In 2nd half, Juan Mata slid home to double the lead before Ibrahimovic laid on the 3rd goal as his cross was being diverted into own net by keeper Brad Jones as subs Lingard capped off a stunning move through a glorious curling shot in stoppage time.

Group Stage - Matchday 06 | 08 Dec - Zorya Luhansk 0-2 United
With United needing just a point to progress into the Rd of 32, Henrikh Mkhitaryan's 1st goal for the club and late on Ibrahimovic's well-taken finish sealed a comfortable win but Fenerbahce triumphed 1-0 away at Feyenoord meant the Reds went into the draw as Group A runners-up.

Round Of 32 - Matchday 07 & 08 | Aggregate Result : 4-0
16 Feb - United 3-0 Saint Etienne | 22 Feb - Saint Etienne 0-1 United
United took huge step towards the last 16 as Ibrahimovic scored his 1st hat-trick for the club in that 1st leg win with the 1st coming from a low free-kick that was deflected into the net in the 15th min before tucking home at close range and adding a late penalty to seal the treble. In that 2nd leg, Mkhitaryan's single strike in the 16th min plus also composed performance by the team was enough to seal a ticket into next round.

Round Of 16 - Matchday 09 & 10 | Aggregate Result : 2-1
09 Mar - Rostov 1-1 United | 16 Mar - United 1-0 Rostov
United gained slender advantage through the 1st leg when Mkhitaryan scored in 3rd successive away game by converting from close range 10 mins before half-time but Aleksandr Bukharov then equalised early in 2nd period as the hosts grew into the tie. As for that 2nd leg, Juan Mata netted a solitary effort with 20 mins remaining to play as Ibrahimovic flicked Mkhitaryan's cross into the Spaniard's path to set up the strike.

Quarter Finals - Matchday 11 & 12 | Aggregate Result : 3-2
13 Apr - Anderlecht 1-1 United | 20 Apr - United 2-1 Anderlecht
For 2nd knockout round in a row, Mkhitaryan gave United an away-leg lead shortly before the break as he netted from an acute angle, only for the hosts' response coming later this time, with Leander Dendoncker's header 4 mins from the end kept the tie alive. Mkhitaryan was again on hand to put the Reds ahead early in the 2nd leg but once Sofiane Hanni levelled the aggregate score and away goal tallies after half-hour mark, it led to longer than expected contest at Old Trafford, although United eventually won thanked to Marcus Rashford's extra-time finish but in the process, losing Ibrahimovic and Marcos Rojo for rest of campaign.

Semi Finals - Matchday 13 & 14 | Aggregate Result : 2-1
04 May - Celta Vigo 0-1 United | 11 May - United 1-1 Celta Vigo
United's matchwinner against Anderlecht edged the Reds another step closer to the final when Rashford's sublime free-kick in 2nd-half sealed a slender 1-0 away victory while Romero's clean sheet had represented an improvement on those 2 previous away-leg scores. After Marouane Fellaini's header at home put the Reds 2 up on aggregate, it seemed the hosts would steam through to the final but the fiery last 5 mins caused by Facundo Roncaglia's late leveller and subsequent red cards for both him and Eric Bailly plunged the final outcome into doubts while John Guidetti spurned a last-gasp chance to snatch a victory for Celta Vigo.

Final - Matchday 15 | 24 May - AFC Ajax 0-2 United
United claimed a 3rd trophy of this season and 1st ever Europa League triumph thanked to goals in either half by both Pogba and Mkhitaryan and while the victory marked a superb end to such a long campaign, it meant much more for many reasons. Yes, it completed the Reds' set of all-time silverware and put the club back in the Champions League for next season but most importantly, this was a success dedicating to the people of Manchester following the terror attack 48 hours earlier. Yet, that opening strike was a poignant moment for Pogba who lost his dad a week before the final and he pointed to the heaven after his deflected effort sail in. The 2nd was also historic as Mkhitaryan netted 5th away European goal, the biggest tally from 1 United player in a single season.